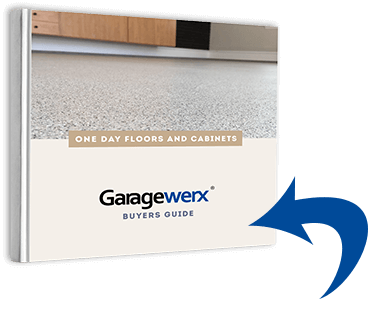 Check Out Our Free Buyers Guide
Unlock the Benefits of Transformed Floors With Garagewerx
Get Your Downloadable Copy Now:
Included in This Free Guide

What Is Concrete Polishing and Polyaspartic Coating?
In this guide, we break down our processes and answer your most frequently asked questions.

Benefits Of Our Services
We help you understand the benefits that a finished floor can offer for your garage floors so you can see the value of our services.

Types of Coats
We also discuss the various types of coats we offer and the circumstances in which each one would work best.

Our Process
We discuss how we prepare your floors, the options for colors and falkes, and more. We also provide you information about our other services, including slatwall, cabinet, and overhead rack installations.
Garagewerx went above and beyond to get the job done! Their truck broke down on the way to the job and the owner came out himself late in the evening to finish everything. Can't say enough on how great these guys are!

West Realty Team

This was an overall FANTASTIC EXPERIENCE, and I couldn't be happier with the results. The garage looks stunning and even better than I imagined. Jennifer and Paul were so great to work with and helped me through each and every step of the process and made sure I was completely taken care of! Loved the overall finished product and am so happy to have found them and used them for my garage update!

Emyay K.

We really appreciated the prompt professional service we received from Garagewerx. Our garage floor is just as we planned and the new baseboards add a finished touch. It will now be so easy to clean and maintain for a long time, thanks Jennifer and Paul and your crew for a great job!

Paul G.

Paul was an absolute delight to work with. I made him go back and forth and redraw plans a bunch but he was never annoyed or negative about any of it. They were also extremely flexible working with what dates worked with us. The cabinets and the job done is also exceptional.

Avni G.